January Ophthalmic Procedures - January 4-7, 2024
Course Information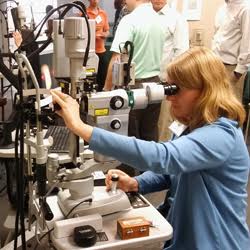 Held in the heart of green country (Tahlequah, Oklahoma), Ophthalmic Procedures gives you the opportunity to receive the latest Ophthalmic Procedures hands on training with our upcoming COPE approved 32 hour Ophthalmic Procedures Course.
The conference will be held at the NSU College of Optometry Academic Wing
1001 N Grand Ave
Tahlequah, OK 74464
There will be a "Clinic Entrance" sign that can be seen from North Grand Ave.
Turn at the clinic entrance sign to get to the academic wing.
You can park in the parking lot out in front of the academic wing in the visitor parking for free.
The academic wing is labeled in large letters and is the last building in the lot with stairs leading up to the door.
Registration
*LIVE IN PERSON ONLY*

Surgical:

$1,000
Laser:

$1,000
Surgical and Laser:

$1,850
January 4-7, 2024
January 4th & 5th will offer 16 hours COPE accredited CE for Surgical Procedures.

January 6th & 7th will offer

16 hours COPE accredited CE for

Laser Therapy for the Anterior Segment.
Travel Information
By Plane
It is easiest to fly into Tulsa, OK. It is about an hour's drive from Tulsa to Tahlequah.
NOTE: There is no public transportation from the airport to Tahlequah, nor is there any available in the city. You will need to rent a car to get to Tahlequah and for travel in the city.
By Car
OK-51 through Broken Arrow is the recommended route. This route does have a toll booth. You can use cash or change (change is usually quicker and easier). You can expect to pay $6 or less round-trip.