Clinics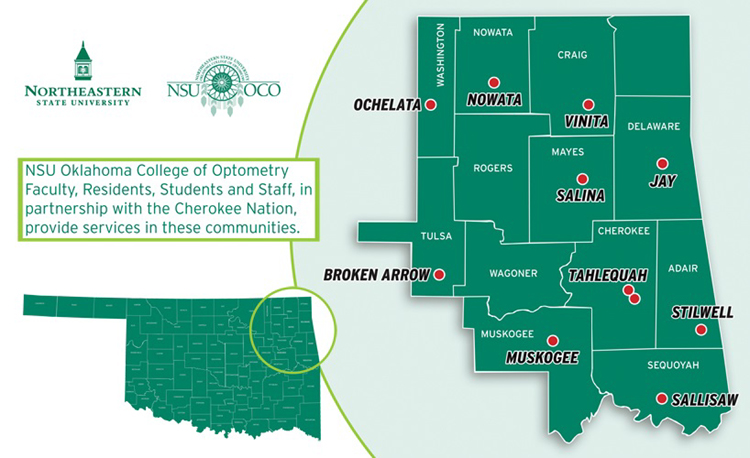 NSUOCO Clinics
The Native American population of Oklahoma faces a severe health problem. Approximately 25 percent of adults have non-insulin dependent diabetes. Many Native American patients who reside in the 14-county area of the Cherokee Nation in northeastern Oklahoma receive primary health care through W.W. Hastings Medical Center in Tahlequah, one of eight rural health clinics of the Cherokee Nation or either of the two NSUOCO campus clinics.
Prior to 1990, only one of four rural clinics had facilities for vision testing. It became evident at that time that the Indian Health Services hospital was serving the needs of only those persons within a 40-mile radius of Tahlequah. Traveling long distances to a health care facility created an undue hardship on Native Americans, and in the more rural areas there were many people who rarely, if ever, saw an eye doctor. The resultant impact was that patients were going blind from preventable eye diseases (such as glaucoma and diabetic retinopathy) and many children were experiencing delayed development of important learning skills due to a lack of vision care.
In 1989, various outreach programs were funded through the National Eye Institutes (NEI). The Northeastern State University Oklahoma College of Optometry collaborated with the Cherokee Nation of Oklahoma and submitted a grant to the Kellogg Foundation for funding of a Mobile Eye Clinic (MEC) to rotate to these underserved rural areas. Each of the rural health clinics formerly served by the MEC now has a permanent eye clinic.
Many systemic diseases, especially diabetes and hypertension, have significant ocular complications. Visual symptoms and signs may be the first diagnostic clue for these diseases. Very often, persons have entered the health care system for the first time, seeking eye glasses for "blurry vision." This is especially true in rural areas where access to medical services may be poor, and many people do not receive routine health maintenance.
The NSUOCO faculty and students serve an important role in solving health problems for rural communities in northeastern Oklahoma, and are well positioned to be the gateway to the health care system. Frequently, the optometrist is the sole source of referral for these patients to other medical disciplines. Annually, students, residents, and faculty experience more than 40,000 patient encounters. Recent expansion of the Cherokee Nation rural health care system has included permanent optometry clinical facilities in the Wilma P. Mankiller Health Center in Stilwell, the Redbird Smith Health Center in Sallisaw, the Sam Hider Community Clinic in Jay, the AMO Community Clinic in Salina, the Will Rogers Health Center in Nowata, the Health Clinic in Vinita, and the Health Clinic in Ochelata.
It is evident that the Rural Eye Program and NSUOCO play a crucial role in early detection and diagnosis in these communities, and that NSUOCO is leading the profession and optometric education in the delivery of eye care in rural health care programs.
Descriptions of Cherokee Nation facilities below are taken from https://health.cherokee.org
The Lesley L. Walls Vision Center at Northeastern State University-Broken Arrow operates as a premier resource and service facility to meet the needs of patients of all ages seeking to recover from decreased vision due to macular degeneration, glaucoma, diabetic retinopathy, stroke, inherited eye disease and other causes. It recognizes the contributions of former NSU College of Optometry dean Dr. Lesley L. Walls, and his wife, Dr. Mary Ann Walls.
NSU Education Building 2nd Floor
3100 E. New Orleans
Broken Arrow, OK
74014 Phone: 918-449-6210
Fax: 918-449-6219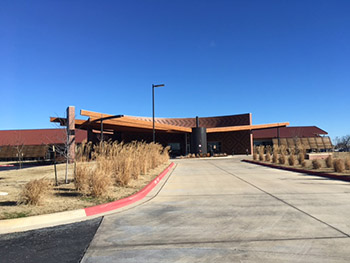 Sam Hider Health Center
The Sam Hider Health Center first opened its doors in 1989 in the former Jay Memorial Hospital and has since moved to the current facility in 2015. The health center square footage went from 28,345 to 42,000 square feet of floor space. As the demand for additional health services increased, the Cherokee Nation began constructing a larger facility to better serve its citizens. This expansion allowed Sam Hider Health Center to add Physical Therapy and Bone Density Testing.
859 East Melton Dr.
Jay, Oklahoma 74346
(918) 253-1700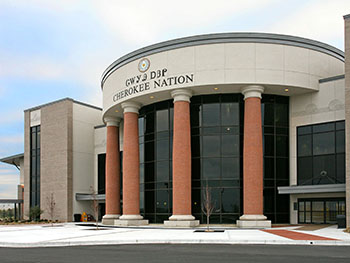 Three Rivers Health Center
The Three Rivers Health Center in Muskogee opened in 2008 and was the result of a joint venture program with the Indian Health Service. The facility, of more than 100,000 square feet was constructed to appropriately accommodate the size and scope of its service population.
1001 S 41st Street East
Muskogee, Oklahoma 74403
(918) 781-6500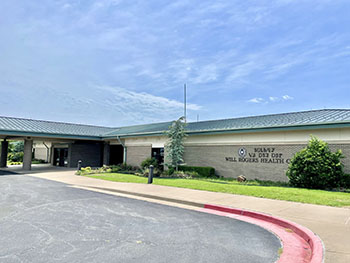 Will Rogers Health Center
The first Nowata Primary Health Care Clinic was established in 1989 by the Cherokee Nation. The clinic was located in a modest building and eventually relocated to the community's industrial park in 1997. As the demand for health care in the area increased, Cherokee Nation constructed a new state-of-the-art facility to meet the growing demand and better serve its citizens. The 27,005-square-foot facility opened in December 2007 and was renamed the Will Rogers Health Center.
1020 Lenape Drive
Nowata, Oklahoma 74048
(918) 273-7500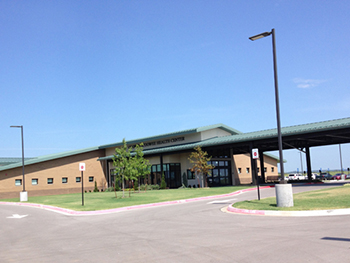 Cooweescoowee Health Center
The Cooweescoowee Health Center broke ground in December of 2013 and opened in June 2015. The Health Center is a facility on 20 acres, boasting 28,000 square feet of space, replacing the previous 5,000-square-foot satellite clinic known as Bartlesville Health Center. This space now allows the Health Center to offer additional services to patients in this region.
395200 West 2900 Road
Ochelata, Oklahoma 74051
(918) 535-6000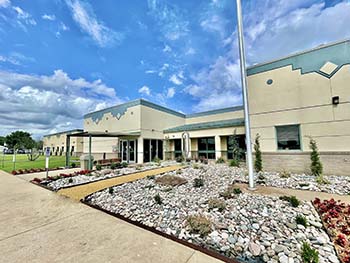 A-Mo Health Center
The A-Mo Health Center is located on ten acres of land where, it is said, Cherokees and other residents once came to trade for salt, hence its name A-Mo, translated to mean "The Salt Place." The health center opened in April of 1996 and has an estimated 28,840 square feet of space.
900 N Owen Walters Blvd.
Salina, Oklahoma 74365
(918) 434-8500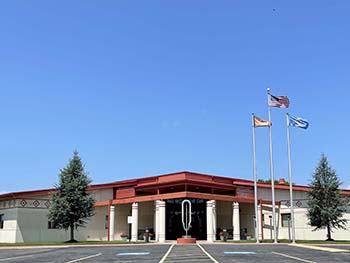 Redbird Smith Health Center
This facility was originally constructed in 1992, dedicated in 1993, and was the first Indian Health Clinic to be constructed new in the Cherokee Nation under tribal management. Located on 36 acres, this site has two buildings; a 21,945-square-foot facility which provides services such as Dental, Administration, Behavioral Health and Public Health Nursing.
In 2008, an 11,444-square-foot building was constructed to increase the capacity of the previous health center. In 2014, an additional 30,000 square feet of space was built to allow for further expansion of services. This building houses services such as Optometry, Family Medicine, Laboratory Services, Pharmacy, Radiology, Physical Therapy, Mammography Services and WIC.
301 S. J.T. Stites Blvd
Sallisaw, Oklahoma 74955
(918) 744-1400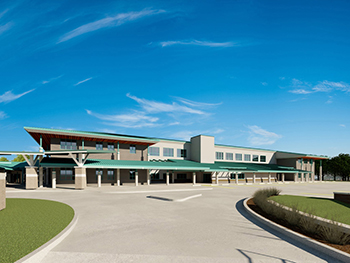 Wilma P Mankiller Health Center
The Wilma P. Mankiller Health Center opened its original 37,374-square-foot facility in 1995. In 2015, a 28,000 square foot addition was completed to allow the expansion of services to our patients. In 2020, construction began again to rebuild the original structure. The 80,000-square-foot west side of the health center is anticipated to open in 2021, making the entire facility approximately 110,000 square feet. This recent expansion of the Wilma P. Mankiller Health Center is a prominent mark on its history, enabling the facility to become an even stronger health care resource for our citizens.
Hwy 51 East
Stilwell, Oklahoma 74960
(918) 696-8800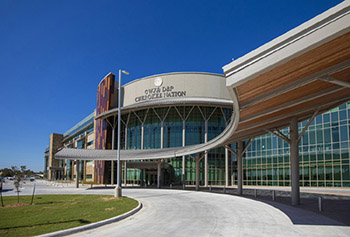 Cherokee Nation Outpatient Health Center
Located on the W.W. Hastings Hospital campus in Tahlequah, the Cherokee Nation Outpatient Health Center is the newest 469,000-square-foot, four-story outpatient health facility and the largest health center operated by the Cherokee Nation. As the largest Indian Health Service joint venture health facility in the United States, the history and culture of Cherokee Nation played an influential role in designing the health center. Consistent with Cherokee Nation's commitment to sustainable and conscientious development, the facility will be certified as LEED Silver (Leadership in Energy and Environmental Design). The health center opened in October 2019, helping the tribe deliver first-class care to citizens.
19600 E. Ross Street
Tahlequah, Oklahoma 74464
(539) 234-3400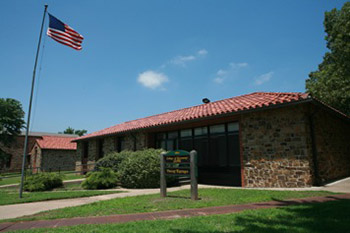 Northeastern State University Oklahoma College of Optometry
1001 N. Grand Ave
Tahlequah, Oklahoma 74464
(918) 458-2109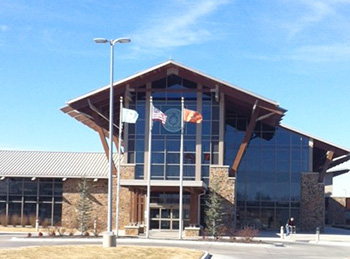 Vinita Health Center
The Vinita Health Center began as a satellite clinic of the Will Rogers Health Center in 2001. In 2012, Cherokee Nation replaced the small facility with a 94,000-square-foot facility, expanding the services provided to our patients.
27371 S. 4410 Rd.
Vinita, Oklahoma 74301
(918) 256-4800