Externship Program
NSUOCO External Rotations
As part of the clinical education at the Northeastern State University Oklahoma College of Optometry, each optometry student participates in an eight-week, off-campus externship. Students choose from two externship periods, either during the first eight weeks or the last eight weeks of the spring semester of their fourth year. No students are assigned to complete externships during either the summer or fall semester due to other academic and clinical responsibilities.
A variety of externship sites are available and each site has a site supervisor who oversees the education program. Opportunities are available for experience in exclusively optometry practices, ophthalmology/optometry group practices, institutional optometry sites, such as VAs, and surgical co-management centers. Externship sites may change from one academic year to the next, depending on the needs of our program, the interest received from private practitioners to serve as a site, and the individual learning goals of our students.
Goals and Objectives

Provide optometric students with the quantity and quality of clinical experiences necessary to develop the professional competence to diagnose, treat, and manage eye and vision conditions, and to deliver care and services unique to the profession of optometry.
During the clinical externship rotations, you will experience:
A diverse clinical population that provides different demographics from the college's clinical population.
New practice management modalities.
Site and Site Director Selection
Clinical externship sites are selected to introduce externs to diversified patient populations and providing interaction with a variety of health care professionals. The director of externships is responsible for site selection and is advised by members of the faculty and administration as to the appropriate number and location of sites. You may suggest possible sites for externship; however, you are not permitted to arrange your own externship, nor should you expect the suggested sites be developed.
Each clinical externship site is required to complete an externship site data form/practice profile, and to make available the curriculum vitae for all doctors who are involved in the education of the extern. This information is used to assess the site's ability to provide the extern with an appropriate learning experience, including adequate facilities and qualified practitioners. A site visit by the director of externships or another faculty member may be conducted prior to site approval.
Minimum externship site requirements include:
Adequate clinical space to allow a student his or her own examination room.
An adequate patient population for the program.
An optometric supervisor for professional development.
Mentorship in a quality, professional setting conducive to the delivery of clinical education.
Availability of housing is not a criterion for site selection and externship sites are not required to provide housing for the extern. It is requested that the site provide any information regarding available short-term housing. Efforts are made to place students at externship sites which are convenient and economical for them to attend.
Each externship site employs a full-time optometric physician who delivers primary or secondary patient care services. This optometric physician will, in most cases, serve as the externship site director and is directly responsible for coordination of the extern's educational activities and monitoring the extern's progress. This optometric physician acts as the mentor to the extern while at the site, helping the extern develop a philosophy of optometric practice, and demonstrating the role of the optometric physician in the provision of patient care. This optometric physician is licensed to practice in the state or setting where the clinic is located. In evaluating potential externship sites, all doctors who potentially are involved in the education of students are evaluated on their ability to serve as an instructor. The site supervisor at approved externship locations is granted adjunct faculty status upon completion of the appropriate documentation.
A Memorandum of Agreement between NSUOCO and the externship site is signed by the dean of the NSU Oklahoma College of Optometry, the director of externships, the externship site supervisor, and, if necessary, other site proprietors or directors. This MOA acts as the official contract between NSUOCO and the site, stating the agreement of the site to provide educational opportunities to the externs and the support of the site and externship program by NSUOCO faculty and administration.
The externship program director communicates with the on-site externship supervisor on a regular basis. Each site supervisor is required to provide a written performance evaluation of the student clinician, and each clinician is required to maintain a patient encounter log and complete a rotation evaluation.
For more information about these programs, contact Dr. April Parker, O.D.
Meet the Externship Program Director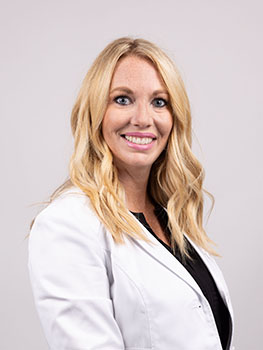 April Parker O.D.

Dr. April Parker is a 2013 graduate of Northeastern State University Oklahoma College of Optometry. She joined the NSUOCO faculty after graduation, serving as Clinical Assistant Professor in the Rural Eye Program (REP) clinics and as Chief of Optometry at Redbird Smith Health Center in Sallisaw, OK from 2014 to 2018. Dr. Parker transitioned to an on-campus position in 2018 and currently serves as Associate Professor, Chief of Neuro-Visual Rehab and Director of Externships.